TrueCarbonCleanse™
60 capsules
Regular price
$59.00
Sale price
$49.00
Unit price
per
Sale
Sold out
True Cellular Formulas TrueCarbonCleanse™ Gut Detoxifier*

TrueCarbonCleanse™ formula contains extremely specialized highly activated carbon, powerful humates (humic and fulvic acids), Cleanoptilite™️ (Clinoptilolite - Zeolite Crystals), and other Gut Detoxifiers that can attach to and eliminate toxins —
— and it does so more effectively than any other formula ever created.
TrueCarbonCleanse™ supports your body's natural removal of pro-inflammatory and body-impacting toxins we are exposed to from the air, water, plastics, heavy metals, chemicals, and more OUT of your cells and body.
TrueCarbonCleanse™ serves as a master drainage gut detoxifying formula that attracts toxins being released in the colon and prevents them from being reabsorbed back into the body aka RETOXIFICATION!
The proprietary matrix of powerful and diverse binders ATTACH to the toxins so they can't be reabsorbed back into the body, causing the "retox effect"...
... instead, they are gently escorted out of the body permanently so the body can thrive naturally without this toxic interference.
Besides the ultra-pure and potent activated charcoal that absorbs up to 300 times its weight in toxins...
...the specialized, powerful humates (humic and fulvic acids) - for additional detox and remineralization support.
...and the patent-pending Cleanoptilite™️ (Clinoptilolite - Zeolite Crystals)...
TrueCarbonCleanse™ contains many other potent toxin binders & fighters, including:

Baozene® Baobab Fruit Powder— promotes a healthy gastrointestinal tract to eliminate toxins and has a high pectin content to support further binding of heavy metals.


Magnesium Oxide, brings water into your intestines, pushing out pathogens, and diluting the toxic load...


Apple Fiber—to provide beneficial pollution absorption and elimination...


More on Science of Cleanoptilite™ (Clinoptilolite):

Cleanoptilolite™ (Clinoptilolite), a new Crystalline Zeolite Nutrient that has a patent-pending cleaning process that scrubs these amazing crystalline toxic binding cages free of pre-existing heavy metals and other toxins...
...opening these "magnetic cages" so they are ready to support the body to bind microscopic "Bad Guys" like heavy metals and more.*
It further attracts heavy metals and other environmental toxins that cause inflammation... and...We've included this patent-pending ingredient, Cleanoptilolite™ (Clinoptilolite) in this formula for two critical reasons:

It further attracts heavy metals and other environmental toxins that can suppress multiple body systems...
Studies have shown it may be a powerful antioxidant and body defender.*
One study showed that this ingredient had positive (immune-boosting) effects and much much more1.
Ingredients: Magnesium 140mg, Proprietary Blend 675mg (includes Apple Fiber, Activated Carbon, Baobab Fiber, Fulvic Acid, Zeolite Clinoptilolite™)
Other Ingredients: Cellulose and L-Leucine.
Suggested Use

Take at least two hours away from any medications and supplements. Take 2-4 capsules at bedtime, for 1-3 months, or as directed. Increase the amount of liquid you drink each day while taking this product.
Active Ingredients

Magnesium, Apple Fiber, Activated Carbon, Baobab Fiber, Fulvic Acid, Zeolite Clinoptilolite (Cleanoptilite™)
References

Kraljević Pavelić, S., Simović Medica, J., Gumbarević, D., Filošević, A., Pržulj, N., & Pavelić, K. (2018, November 27). Critical Review on Zeolite Clinoptilolite Safety and Medical Applications in vivo. Retrieved from https://www.ncbi.nlm.nih.gov/pmc/articles/PMC6277462/
Shipping Policies

US Domestic Order Subtotals of $200.00 or more: FREE

---

At checkout, you will be prompted to choose a shipping method for your item(s). Shipping costs are dependent on the items in your order and the shipping method you select.

Note: Not all products sold on this site qualify for free or discounted shipping.

True Cellular Formulas shipping hours are Monday through Friday 9 AM to 5 PM EST, excluding holidays. We do not process orders for shipping on Saturday or Sunday.

Generally, if you are shipping within the United States, you will have the option of upgrading your shipping method for faster delivery (Ground, Third Day, Second Day, or Overnight Service*). If you choose to upgrade your shipping method, your order must be received and clear credit authorization by 12:00 p.m. (noon)** EST, or your order may not be processed until the following business day. Business days are Monday-Friday, excluding observed holidays within the United States.

If you purchase the first-class mail option, Once your items are in the mail, the package is no longer the responsibility of True Cellular Formulas. We will not replace lost or stolen packages. If you purchased the Priority or Priority Express option, your package does come with standard insurance and we will file a claim for your lost or stolen package.

International Orders are not eligible for returns. Please check with Customs Regulations on importing supplements into your country. We are not liable or responsible for customs seizures. Taxes and Duty Fees are required prior to delivery.

UPS Next Day Air Services do NOT include Saturday delivery. Please call us to arrange for UPS Next Day Air Service Saturday delivery.

USPS Expedited and Priority Mail are NOT guaranteed services. Please choose UPS or FedEx for guaranteed services.

*Due to USPS zone restrictions, we cannot guarantee second-day or one to two-day express delivery to all zones. **Does not guarantee Same-Day Shipping.
Caution: If you are pregnant or nursing, consult with your healthcare practitioner before use. Keep out of reach of children.
*These statements have not been evaluated by the Food and Drug Administration. This product is not intended to diagnose, treat, cure or prevent any disease.
Share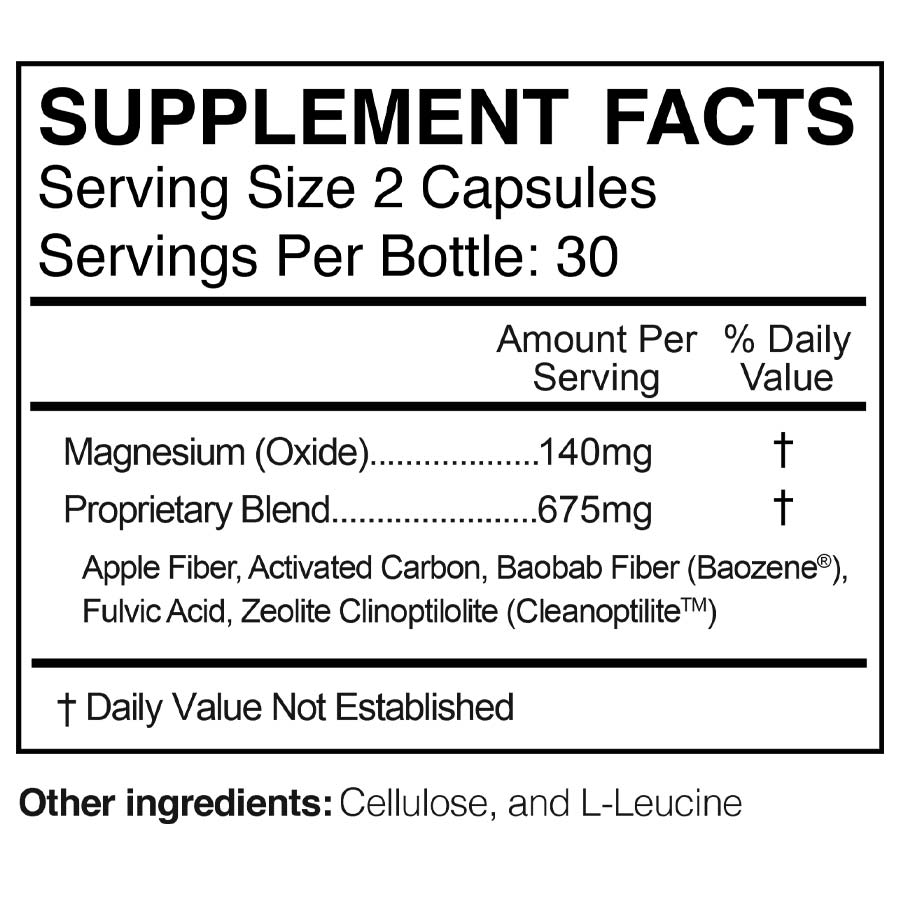 Non-Toxic Project Certified
Our products are independently tested by a 3rd-party lab and exceeded industry supplement requirementsfor heavy metals or pathogens according to cGMP & Non-Toxic Project standards.
Other Top-Sellers Include: