CytoDefend
0.5 fl oz
Regular price
$49.00
Sale price
$41.95
Unit price
per
Sale
Sold out
CytoDefend

™️

Immune Support

CytoDefend™️ is a highly concentrated, highly portable formula—filled with a combination of potent, immune-supporting, researched extracts.
It was designed by a leading and published nutraceutical research scientists to boost immunity in 7 key ways, systematically.
Just a small dropper full a day can support immunity.
Let's look at how each ingredient works to support your immunity:


Bupleurum Root (Chaihu)


Bupleurum is a member of the Apiaceae family of plants and has been a staple of Traditional Chinese Medicine (TCM) for over 2,000 years. It is referred to as "Chai Hu" in TCM texts.

Studies show:

Bupleurum Root (Chaihu) alleviates a wide spectrum of disorders in a multi-target manner through its immunomodulatory (immune-stimulating), hepatoprotective (liver supporting), and effects.
In a human study Bupleurum Root (Chaihu) reportedly supports the bodies natural defenses in influenza, the common cold, malaria, and pneumonia, with the majority of patients.
Studies show that it has antioxidant and protective abilities, which can help with the normal inflammatory process associated with challenges (inflammation can be more dangerous!)
Bupleurum has a stimulating activity that helps the body to process steroids that is beneficial in strengthening the immune system.


Elderberry Fruit


Elderberry is the dark purple berry from the European elder tree. It has long been used and studied for its ability to positively impact symptoms related to seasonal immune challenges.
One study showed that elderberry interacts the early by blocking key viral proteins responsible for both the attachment and entry into the host cells.
Another study showed a significant reduction of normal symptoms duration and severity in air travelers.
Research found compounds in black elderberry (Sambucus nigra) could directly impact cellular entry and subsequent replication, in part attributed to the anthocyanidin responsible for the vivid purple coloring of the fruit.

Several studies have demonstrated that elder extract is highly effective in mitigating flu-like symptoms—specifically, the flavonoids in the elderberry extract binding.


Echinacea Herb


Echinacea is the name of a group of flowering plants in the daisy family. Studies have linked echinacea to benefits like supporting a normal inflammatory response, a healthy immune response, and desired blood sugar levels .
Studies on Echinacea extracts have shown that some of them, but not all, possess multiple beneficial actions in the maintenance of normal of respiratory function.
Echinacea seems to activate chemicals in the body that interact with inflammatory responses, which might improve symptoms.
Because of its immune-supporting and normal inflammatory effects, echinacea can be used to support upper respiratory systems. In fact, in clinical studies it support the structure function benefits of the pulmonary system in those study participants.

Astragalus Root


Astragalus is an herb that has been used in traditional Chinese medicine for centuries. It has many researched health benefits, including immune-supporting, healthy aging, and normal inflammatory effects.

One study showed astragalus root may help reinforce immunity in animals with challenges.
Astragalus root extract may alter the function of the immune response mediators and cell migration via HPA in macrophages.
Astragalus membranaceus, a traditional Chinese herb, has been used to reinforce pulmonary airways.


Licorice Root


Licorice refers to the root of a plant called Glycyrrhiza glabra. It has been used therapeutically since Egyptian times, and its active compound, glycyrrhizin, has been studied for its role in aiding digestion and immunity.
Recent studies have shown that licorice root metabolites possess many pharmacological activities like immune-support, cellular adaptation, and other activities.
Glycyrrhizin has strong immune-supporting and healthy-inflammatory properties.
Licorice may support normal respiratory health.


Ascorbic Acid


Ascorbic acid is a form of vitamin C involved in the repair of tissue and the enzymatic production of certain neurotransmitters; enzymes use it to support immunity..
Ascorbic acid, due to its effects and diversity of regulated pathways, can support immunity.
Ascorbic acid is essential for effective immune system function and, further, it can be a potent immune system vitamin when high glycemic dietary carbohydrates are restricted.
Ascorbic Acid is essential to reinforce the immune system by increasing adding value to the protective systems of the organism.


Zinc Sulfate


Zinc sulfate is a natural form of the mineral that can help reverse deficiency. Zinc is essential for immunity, and over 2 billion people don't get enough daily zinc.
Zinc also is an antioxidant and has healthy-inflammatory actions that can help boost immunity and reduce the effects of infection.
Zinc plays a critical role in virtually all aspects of the immune system. Zinc is needed for the optimal function of the many different types of white blood cells that protect the body from illness and infection, in addition to cytokine production, phagocytosis, and other immune system processes. Even mild zinc deficiency can weaken the immune system.
Zinc has been studied as a way to reduce the duration of a common challenges. Some studies have found that zinc lozenges may reduce the duration of difficult symptoms and may assist normal upper respiratory function during times of stress.
This Cochrane review provides convincing evidence from 13 randomized placebo-controlled trials regarding zinc's potential role in immune support and function..
Researchers have also discovered that zinc may have other immune-health properties that help your body have a strong first response at the on set of symptoms.


A "With You All the Time" Formula for 24/7 Protection


CytoDefend™️ is unlike any formula you'll find in stores or online. It's not available on Amazon or any other outlet.
CytoDefend™️ leverages over a decade of extraction and research experience from one of the top formulation scientists in the world to deliver:
The highest potency, most concentrated, proprietary extracts of each clinically researched ingredient
The levels and ratios of each ingredient for maximum immune boosting support and effect
The most portable and durable bottle—so you can keep in your pocket or purse and have with you all day, every day.
While we recommend taking CytoDefend™️ with 2oz water, the drops can be placed directly in your mouth if you are out or do not have water with you.
The immune-supporting effect is exactly the same.
Suggested Use

Add 1 to 2 full droppers to 2oz - 4oz of water or juice. Take 1 to 2 times daily or as needed.
Active Ingredients

Vitamin C, Zinc, Bupleurum Root, Elderberry Fruit, Echinacea Herb, Astragalus Root, Licorice Root, Ginkgo Biloba, Monk Fruit
FAQ's

What are the benefits of taking Zinc and Vitamin C?

Zinc and Vitamin C offer a range of health benefits that are beneficial for the body, such as supporting the immune system, wound healing, and skin health.

How does Zinc benefit the body?

Zinc is an essential mineral that supports a range of bodily functions. It plays a vital role in immune system function, wound healing, cell growth, and the maintenance of healthy skin. It also helps with the proper functioning of enzymes and DNA synthesis. Zinc can also reduce the duration and severity of cold and flu symptoms.

How does Vitamin C benefit the body?

Vitamin C is an antioxidant that supports a range of bodily functions, including immune system function, collagen production, and wound healing. It can also help improve iron absorption and protect against oxidative stress. Vitamin C can also reduce the duration and severity of cold and flu symptoms.

Can taking Zinc and Vitamin C prevent colds and flu?

While Zinc and Vitamin C cannot completely prevent colds and flu, studies have shown that they can help reduce the severity and duration of symptoms.

Can Zinc and Vitamin C help with wound healing?

Yes, Zinc and Vitamin C can help with wound healing. Vitamin C is crucial in collagen production and essential for wound healing. Zinc is also essential for proper wound healing as it plays a role in cell growth and immune system function.

Are there any side effects of taking Zinc and Vitamin C supplements?

Generally, Zinc and Vitamin C supplements are safe when taken in recommended doses. However, taking high doses of Zinc can cause nausea, vomiting, diarrhea, and headaches. High doses of Vitamin C can cause gastrointestinal upset, such as diarrhea, nausea, and cramps.

Can Zinc and Vitamin C interact with other medications?

Yes, Zinc and Vitamin C can interact with some medications. For example, Zinc can interact with antibiotics, diuretics, and blood pressure medications. Vitamin C can interact with chemotherapy drugs, blood thinners, and antidepressants. It is best to consult a healthcare professional before taking supplements if you are taking any medications.

Why do you use Ethanol in CytoDefend?

The ethanol is there to serve as a natural preservative and is there in a very submicron amount. It's also derived from organic sugar cane.

Is CytoDefend gluten-free?

Yes, CytoDefend is gluten-free, Vegan-friendly, soy-free, and dairy-free.

What is the source of Vitamin C in CytoDefend?

Vitamin C is made from fermented sorbitol; the source is China Non-GMO Pesticide Free.

At True Cellular Formulas, we source ingredients from around the world based on their availability. While some ingredients cannot be sourced within the United States, we ensure that each undergoes independent third-party testing for heavy metals, mold, and mycotoxins to meet our rigorous standards.

Any ingredient that fails to meet our criteria is rejected, and a Certificate of Analysis supports all our products. We take pride in standing behind our products and the sourced ingredients used in our formulas.


What are the benefits of taking an immune support blend?
An immune support blend is a combination of natural ingredients that are known to support the immune system. The benefits of using an immune support blend may include:

Boosting immune system function: An immune support blend can help support the body's natural defense mechanisms, including white blood cell and antibody production. This can help the body fight off infections and illnesses.
Reducing the duration and severity of illness: Immune support blends often contain ingredients that can help reduce inflammation and oxidative stress in the body. This can help reduce the duration and severity of illnesses such as colds and flu.
Supporting overall health: The ingredients in an immune support blend can also support overall health and well-being. Many of these ingredients have antioxidant properties, which can help protect the body against damage from free radicals.
Improving energy levels: An immune support blend can help improve energy levels by supporting the body's natural processes. This can help reduce fatigue and improve overall physical performance.
Supporting digestive health: Some ingredients in immune support blends, such as probiotics and digestive enzymes, can help support digestive health. This can help improve nutrient absorption and support overall health.

It is important to note that the effectiveness of an immune support blend can vary depending on the specific ingredients and their concentrations. Using these blends as part of a healthy lifestyle that includes a balanced diet, regular exercise, and adequate sleep is also essential. As always, it is important to speak with a healthcare professional before starting any new supplement regimen.
Shipping Policies

US Domestic Order Subtotals of $200.00 or more: FREE

---

At checkout, you will be prompted to choose a shipping method for your item(s). Shipping costs are dependent on the items in your order and the shipping method you select.

Note: Not all products sold on this site qualify for free or discounted shipping.

True Cellular Formulas shipping hours are Monday through Friday 9 AM to 5 PM EST, excluding holidays. We do not process orders for shipping on Saturday or Sunday.

Generally, if you are shipping within the United States, you will have the option of upgrading your shipping method for faster delivery (Ground, Third Day, Second Day, or Overnight Service*). If you choose to upgrade your shipping method, your order must be received and clear credit authorization by 12:00 p.m. (noon)** EST, or your order may not be processed until the following business day. Business days are Monday-Friday, excluding observed holidays within the United States.

If you purchase the first-class mail option, Once your items are in the mail, the package is no longer the responsibility of True Cellular Formulas. We will not replace lost or stolen packages. If you purchased the Priority or Priority Express option, your package does come with standard insurance and we will file a claim for your lost or stolen package.

International Orders are not eligible for returns. Please check with Customs Regulations on importing supplements into your country. We are not liable or responsible for customs seizures. Taxes and Duty Fees are required prior to delivery.

UPS Next Day Air Services do NOT include Saturday delivery. Please call us to arrange for UPS Next Day Air Service Saturday delivery.

USPS Expedited and Priority Mail are NOT guaranteed services. Please choose UPS or FedEx for guaranteed services.

*Due to USPS zone restrictions, we cannot guarantee second-day or one to two-day express delivery to all zones. **Does not guarantee Same-Day Shipping.
Caution: If you are pregnant or nursing, consult with your healthcare practitioner before use. Keep out of reach of children.
*These statements have not been evaluated by the Food and Drug Administration. This product is not intended to diagnose, treat, cure or prevent any disease.
Share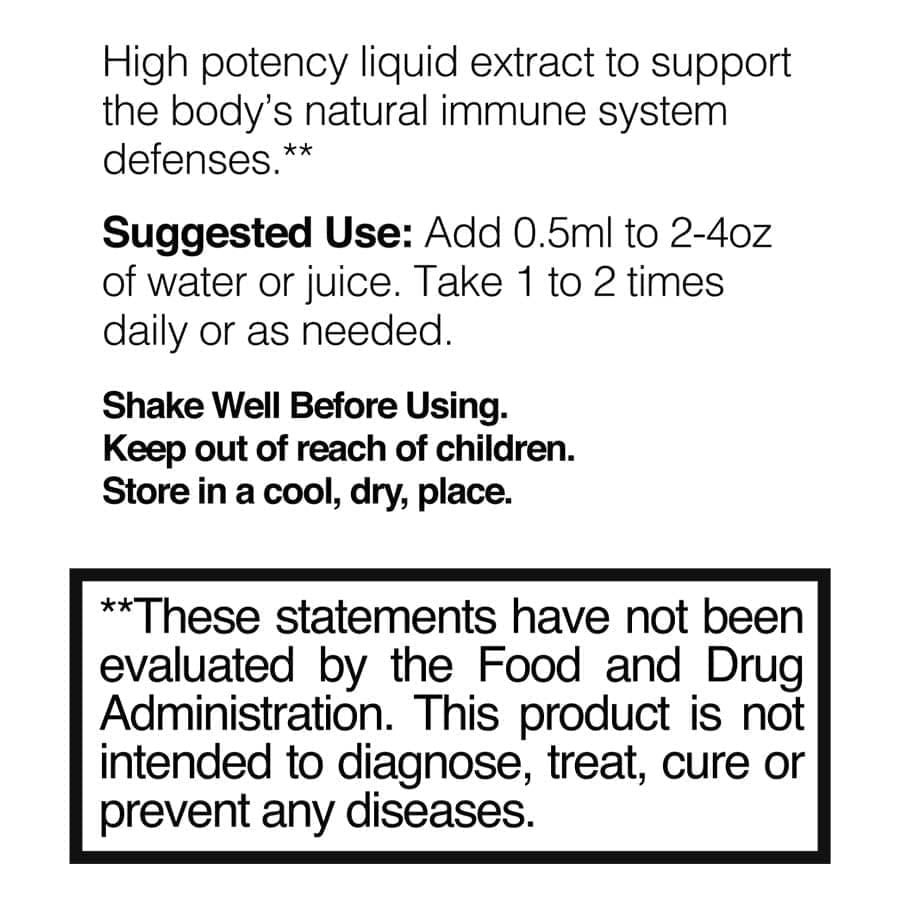 Non-Toxic Project Certified
Our products are independently tested by a 3rd-party lab and exceeded industry supplement requirementsfor heavy metals or pathogens according to cGMP & Non-Toxic Project standards.
Other Top-Sellers Include: