Thyroid Support*
60 Capsules
Regular price
Sale price
$49.95
Unit price
per
Sale
Sold out
True Cellular Formulas® Thyroid Support promotes healthy thyroid hormone function with our powerful thyroid complex. These researched-based thyroid support nutrients and ancient herbs will help you wake up more rested & have more energy throughout the day. These ingredients have been shown to✝:
Increase energy Levels - When your thyroid is healthy, you'll be more rested and more energetic throughout the day 1,✝.
Increase focus and Clarity - Improving thyroid function enhances concentration, enhances memory, improves mood, and eliminates brain fog.2,✝
Supports immunity: Ashwagandha root helps maintain a healthy immune system and endocrine system 3,✝
Supports a healthy metabolism, Thyroid Support contains iodine and cayenne pepper 4,5✝
Suggested Use

Adults take two (2) capsules daily, preferably with a meal
Active Ingredients

Vitamin B12, Iodine, Magnesium, Zinc, Selenium, Copper, Manganese, Molybdenum, L-Tyrosine, Schisandra Frut, Ashwagandha Root, Bladderwrack, Cayenne Pepper, Kelp
FAQ's

What is True Cellular Formulas® Thyroid Support, and what does it aim to achieve?

True Cellular Formulas® Thyroid Support is a dietary supplement formulated to promote healthy thyroid hormone function. It contains a blend of researched-based thyroid support nutrients and ancient herbs designed to enhance overall well-being. This supplement aims to support various aspects of health, including increased energy levels, improved focus and clarity, immune system support, and a healthy metabolism.

How can Thyroid Support increase energy levels?

A healthy thyroid plays a crucial role in regulating energy levels. Thyroid Support is formulated with ingredients that support thyroid health, potentially leading to increased energy and a feeling of being more rested throughout the day.

Can Thyroid Support help improve focus and clarity?

Yes, Thyroid Support contains ingredients that may enhance thyroid function. An improved thyroid function can lead to better concentration, memory, mood, and reduced brain fog, thus supporting focus and mental clarity.

What is the role of Ashwagandha root in Thyroid Support?

Ashwagandha root is included in Thyroid Support to help maintain a healthy immune system and endocrine system. It is known for its adaptogenic properties, which can support overall health and well-being.

How does Thyroid Support promote a healthy metabolism?

Thyroid Support contains iodine and cayenne pepper, which are essential for supporting a healthy metabolism. Iodine is a key component in thyroid hormone production, while cayenne pepper can help increase metabolism by promoting thermogenesis.

Are there any potential side effects or interactions with Thyroid Support?

While Thyroid Support is generally considered safe for most individuals, it's essential to consult with a healthcare provider before starting any new dietary supplement, especially if you have specific health concerns or are taking medications. Individual reactions to supplements can vary, so professional guidance is recommended.

How should I incorporate Thyroid Support into my daily routine?

The recommended dosage and usage instructions for Thyroid Support can be found on the product label. It's advisable to consult with a healthcare professional for personalized guidance on incorporating this supplement into your daily regimen.

Is Thyroid Support suitable for vegetarians and vegans?

The suitability of Thyroid Support for vegetarians and vegans may vary depending on the specific product formulation. Please refer to the product label or contact the manufacturer for information about ingredients and dietary preferences.
References

Yavuz S, Salgado Nunez Del Prado S, Celi FS. Thyroid Hormone Action and Energy Expenditure. J Endocr Soc. 2019 May 16;3(7):1345-1356. doi: 10.1210/js.2018-00423. PMID: 31286098; PMCID: PMC6608565.
Choudhry H, Nasrullah M. Iodine consumption and cognitive performance: Confirmation of adequate consumption. Food Sci Nutr. 2018 Jun 1;6(6):1341-1351. doi: 10.1002/fsn3.694. Erratum in: Food Sci Nutr. 2021 Jan 19;9(2):1256. PMID: 30258574; PMCID: PMC6145226.
Tharakan A, Shukla H, Benny IR, Tharakan M, George L, Koshy S. Immunomodulatory Effect of Withania somnifera (Ashwagandha) Extract-A Randomized, Double-Blind, Placebo-Controlled Trial with an Open-Label Extension on Healthy Participants. J Clin Med. 2021 Aug 18;10(16):3644. doi: 10.3390/jcm10163644. PMID: 34441940; PMCID: PMC8397213.
Zbigniew S. Role of Iodine in Metabolism. Recent Pat Endocr Metab Immune Drug Discov. 2017;10(2):123-126. doi: 10.2174/1872214811666170119110618. PMID: 28103777.
Rogers J, Urbina SL, Taylor LW, Wilborn CD, Purpura M, Jäger R, Juturu V. Capsaicinoids supplementation decreases percent body fat and fat mass: adjustment using covariates in a post hoc analysis. BMC Obes. 2018 Aug 13;5:22. doi: 10.1186/s40608-018-0197-1. PMID: 30123516; PMCID: PMC6088424.

Other Supportive Research

Rogers J, Urbina SL, Taylor LW, Wilborn CD, Purpura M, Jäger R, Juturu V. Capsaicinoids supplementation decreases percent body fat and fat mass: adjustment using covariates in a post hoc analysis. BMC Obes. 2018 Aug 13;5:22. doi: 10.1186/s40608-018-0197-1. PMID: 30123516; PMCID: PMC6088424.

Chung HR. Iodine and thyroid function. Ann Pediatr Endocrinol Metab. 2014 Mar;19(1):8-12. doi: 10.6065/apem.2014.19.1.8. Epub 2014 Mar 31. PMID: 24926457; PMCID: PMC4049553.

Wang K, Wei H, Zhang W, Li Z, Ding L, Yu T, Tan L, Liu Y, Liu T, Wang H, Fan Y, Zhang P, Shan Z, Zhu M. Severely low serum magnesium is associated with increased risks of positive anti-thyroglobulin antibody and hypothyroidism: A cross-sectional study. Sci Rep. 2018 Jul 2;8(1):9904. doi: 10.1038/s41598-018-28362-5. PMID: 29967483; PMCID: PMC6028657.

Severo JS, Morais JBS, de Freitas TEC, Andrade ALP, Feitosa MM, Fontenelle LC, de Oliveira ARS, Cruz KJC, do Nascimento Marreiro D. The Role of Zinc in Thyroid Hormones Metabolism. Int J Vitam Nutr Res. 2019 Jul;89(1-2):80-88. doi: 10.1024/0300-9831/a000262. Epub 2019 Apr 15. PMID: 30982439.

Arthur JR, Nicol F, Beckett GJ. The role of selenium in thyroid hormone metabolism and effects of selenium deficiency on thyroid hormone and iodine metabolism. Biol Trace Elem Res. 1992 Sep;34(3):321-5. doi: 10.1007/BF02783686. PMID: 1384621.

Kim MJ, Kim SC, Chung S, Kim S, Yoon JW, Park YJ. Exploring the role of copper and selenium in the maintenance

Soldin OP, Aschner M. Effects of manganese on thyroid hormone homeostasis: potential links. Neurotoxicology. 2007 Sep;28(5):951-6. doi: 10.1016/j.neuro.2007.05.003. Epub 2007 May 13. PMID: 17576015; PMCID: PMC2067987

Zhou Q, Xue S, Zhang L, Chen G. Trace elements and the thyroid. Front Endocrinol (Lausanne). 2022 Oct 24;13:904889. doi: 10.3389/fendo.2022.904889. PMID: 36353227; PMCID: PMC9637662.

Khaliq W, Andreis DT, Kleyman A, Gräler M, Singer M. Reductions in tyrosine levels are associated with thyroid hormone and catecholamine disturbances in sepsis. Intensive Care Med Exp. 2015 Oct 1;3(Suppl 1):A686. doi: 10.1186/2197-425X-3-S1-A686. PMCID: PMC4798095.

Sharma AK, Basu I, Singh S. Efficacy and Safety of Ashwagandha Root Extract in Subclinical Hypothyroid Patients: A Double-Blind, Randomized Placebo-Controlled Trial. J Altern Complement Med. 2018 Mar;24(3):243-248. doi: 10.1089/acm.2017.0183. Epub 2017 Aug 22. PMID: 28829155.

Sanati S, Razavi BM, Hosseinzadeh H. A review of the effects of Capsicum annuum L. and its constituent, capsaicin, in metabolic syndrome. Iran J Basic Med Sci. 2018 May;21(5):439-448. doi: 10.22038/IJBMS.2018.25200.6238. PMID: 29922422; PMCID: PMC6000222.

Clark CD, Bassett B, Burge MR. Effects of kelp supplementation on thyroid function in euthyroid subjects. Endocr Pract. 2003 Sep-Oct;9(5):363-9. doi: 10.4158/EP.9.5.363. PMID: 14583417.
Shipping Policies

US Domestic Order Subtotals of $200.00 or more: FREE

---

At checkout, you will be prompted to choose a shipping method for your item(s). Shipping costs are dependent on the items in your order and the shipping method you select.

Note: Not all products sold on this site qualify for free or discounted shipping.

True Cellular Formulas shipping hours are Monday through Friday 9 AM to 5 PM EST, excluding holidays. We do not process orders for shipping on Saturday or Sunday.

Generally, if you are shipping within the United States, you will have the option of upgrading your shipping method for faster delivery (Ground, Third Day, Second Day, or Overnight Service*). If you choose to upgrade your shipping method, your order must be received and clear credit authorization by 12:00 p.m. (noon)** EST, or your order may not be processed until the following business day. Business days are Monday-Friday, excluding observed holidays within the United States.

If you purchase the first-class mail option, Once your items are in the mail, the package is no longer the responsibility of True Cellular Formulas. We will not replace lost or stolen packages. If you purchased the Priority or Priority Express option, your package does come with standard insurance and we will file a claim for your lost or stolen package.

International Orders are not eligible for returns. Please check with Customs Regulations on importing supplements into your country. We are not liable or responsible for customs seizures. Taxes and Duty Fees are required prior to delivery.

UPS Next Day Air Services do NOT include Saturday delivery. Please call us to arrange for UPS Next Day Air Service Saturday delivery.

USPS Expedited and Priority Mail are NOT guaranteed services. Please choose UPS or FedEx for guaranteed services.

*Due to USPS zone restrictions, we cannot guarantee second-day or one to two-day express delivery to all zones. **Does not guarantee Same-Day Shipping.
Caution: If you are pregnant or nursing, consult with your healthcare practitioner before use. Keep out of reach of children.
*These statements have not been evaluated by the Food and Drug Administration. This product is not intended to diagnose, treat, cure or prevent any disease.
Share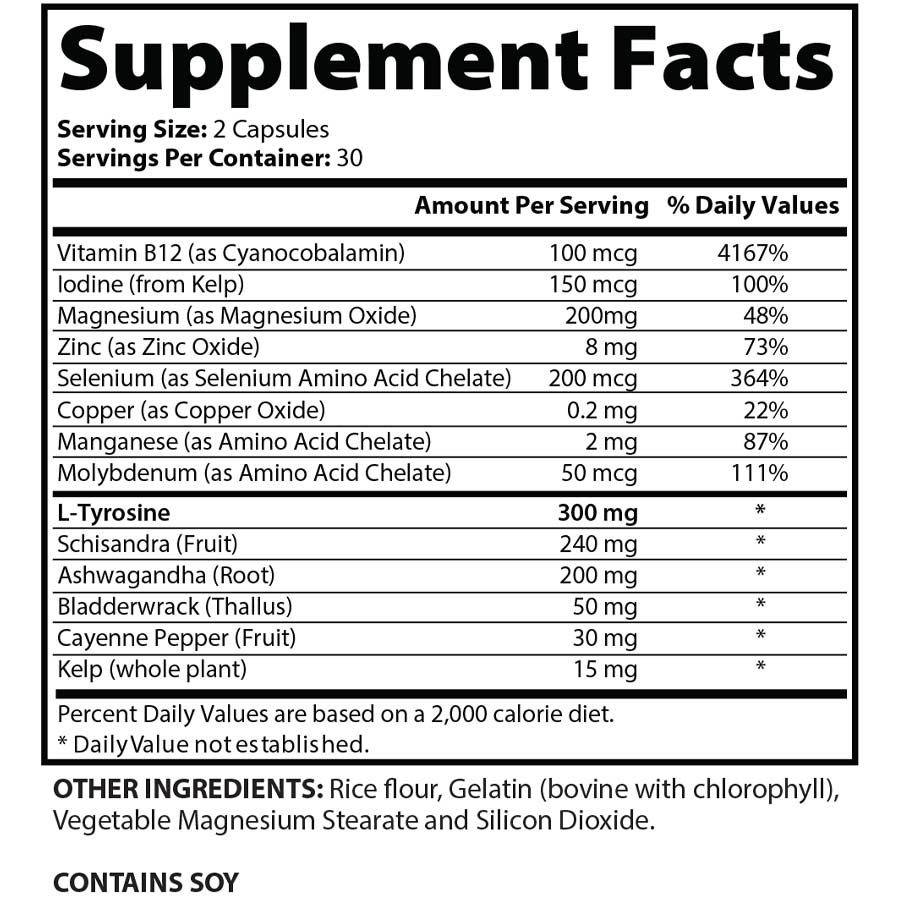 Non-Toxic Project Certified
Our products are independently tested by a 3rd-party lab and exceeded industry supplement requirements
for heavy metals or pathogens according to cGMP & Non-Toxic Project standards.