Mood Support*
30 capsules
Regular price
Sale price
$49.95
Unit price
per
Sale
Sold out
True Cellular Formulas® Mood Support: A nutritional supplement containing nutrients and herbal extracts to support a healthy nervous system and a positive, balanced mood.
This product promotes stress management by supplying essential vitamins and minerals for stress support, including B Vitamins, magnesium, and

 

zinc. 

1,✝

Better brain chemistry: Anxiety and depression are often associated with an imbalance of neurotransmitters. Our exclusive blend including L-Theanine and valerian root supports balancing brain health. 

2, 3✝

Herbs like Rhodiola and Ashwagandha help to further manage stress and calm the nervous system 

4,5✝
Suggested Use

Adults take 1 capsule daily
Active Ingredients

Thiamine, Riboflavin, Niacin, Vitamin B6, Biotin, Pantothenic Acid (as Vitamin B5), Magnesium (as Magnesium Oxide), Zinc (as Oxide), Proprietary Blend (See Label)
FAQ's

What is Mood Support?

Mood support supplements are dietary supplements that contain a combination of vitamins, minerals, herbs, and other natural ingredients believed to support and promote positive mood and emotional well-being.

What are some common ingredients found in Mood Support supplements?

Some ingredients in Mood Support supplements include B vitamins, vitamin D, omega-3 fatty acids, St. John's Wort, SAMe, and various herbs such as ashwagandha, valerian root, and passionflower.

Can Mood Support supplements help with depression and anxiety?

While Mood Support supplements may provide some benefits for mild to moderate symptoms of depression and anxiety, they are not a substitute for professional medical treatment. If you are experiencing severe or persistent symptoms, it is important to seek the advice of a healthcare professional.

Are Mood Support supplements safe?

In general, Mood Support supplements are considered safe when taken as directed. However, some individuals may experience side effects or interactions with other medications or supplements, so it is important to speak with a healthcare professional before starting any new supplement regimen.

At True Cellular Formulas, we source ingredients from around the world based on their availability. While some ingredients cannot be sourced within the United States, we ensure that each undergoes independent third-party testing for heavy metals, mold, and mycotoxins to meet our rigorous standards.

Any ingredient that fails to meet our criteria is rejected, and a Certificate of Analysis supports all our products. We take pride in standing behind our products and the sourced ingredients used in our formulas.

How long does it take for Mood Support supplements to work?

The time it takes for mood support supplements to work can vary depending on the individual and the specific supplement. Some supplements may provide immediate effects, while others may take several weeks to start working. It is important to follow the recommended dosage and allow enough time for the supplement to take effect before making any adjustments.

As always, it is important to consult with a healthcare professional before starting any new supplement regimen.
References

Long SJ, Benton D. Effects of vitamin and mineral supplementation on stress, mild psychiatric symptoms, and mood in nonclinical samples: a meta-analysis. Psychosom Med. 2013 Feb;75(2):144-53. doi: 10.1097/PSY.0b013e31827d5fbd. Epub 2013 Jan 29. PMID: 23362497.

Hidese S, Ogawa S, Ota M, Ishida I, Yasukawa Z, Ozeki M, Kunugi H. Effects of L-Theanine Administration on Stress-Related Symptoms and Cognitive Functions in Healthy Adults: A Randomized Controlled Trial. Nutrients. 2019 Oct 3;11(10):2362. doi: 10.3390/nu11102362. PMID: 31623400; PMCID: PMC6836118.

Jung HY, Yoo DY, Kim W, Nam SM, Kim JW, Choi JH, Kwak YG, Yoon YS, Hwang IK. Valeriana officinalis root extract suppresses physical stress by electric shock and psychological stress by nociceptive stimulation-evoked responses by decreasing the ratio of monoamine neurotransmitters to their metabolites. BMC Complement Altern Med. 2014 Dec 11;14:476. doi: 10.1186/1472-6882-14-476. PMID: 25495725; PMCID: PMC4364108.

Singh N, Bhalla M, de Jager P, Gilca M. An overview on ashwagandha: a Rasayana (rejuvenator) of Ayurveda. Afr J Tradit Complement Altern Med. 2011;8(5 Suppl):208-13. doi: 10.4314/ajtcam.v8i5S.9. Epub 2011 Jul 3. PMID: 22754076; PMCID: PMC3252722.

Li Y, Pham V, Bui M, Song L, Wu C, Walia A, Uchio E, Smith-Liu F, Zi X. Rhodiola rosea L.: an herb with anti-stress, anti-aging, and immunostimulating properties for cancer chemoprevention. Curr Pharmacol Rep. 2017 Dec;3(6):384-395. doi: 10.1007/s40495-017-0106-1. Epub 2017 Sep 14. PMID: 30393593; PMCID: PMC6208354.

Other Supportive Research

Butterworth RF. Thiamin deficiency and brain disorders. Nutr Res Rev. 2003 Dec;16(2):277-84. doi: 10.1079/NRR200367. PMID: 19087395.

Marashly ET, Bohlega SA. Riboflavin Has Neuroprotective Potential: Focus on Parkinson's Disease and Migraine. Front Neurol. 2017 Jul 20;8:333. doi: 10.3389/fneur.2017.00333. PMID: 28775706; PMCID: PMC5517396.

Gasperi V, Sibilano M, Savini I, Catani MV. Niacin in the Central Nervous System: An Update of Biological Aspects and Clinical Applications. Int J Mol Sci. 2019 Feb 23;20(4):974. doi: 10.3390/ijms20040974. PMID: 30813414; PMCID: PMC6412771.

Kennedy DO. B Vitamins and the Brain: Mechanisms, Dose and Efficacy--A Review. Nutrients. 2016 Jan 27;8(2):68. doi: 10.3390/nu8020068. PMID: 26828517; PMCID: PMC4772032.

Cuciureanu MD, Vink R. Magnesium and stress. In: Vink R, Nechifor M, editors. Magnesium in the Central Nervous System [Internet]. Adelaide (AU): University of Adelaide Press; 2011.

Pfeiffer CC, Braverman ER. Zinc, the brain and behavior. Biol Psychiatry. 1982 Apr;17(4):513-32. PMID: 7082716.

Hieu TH, Dibas M, Surya Dila KA, Sherif NA, Hashmi MU, Mahmoud M, Trang NTT, Abdullah L, Nghia TLB, Y MN, Hirayama K, Huy NT. Therapeutic efficacy and safety of chamomile for state anxiety, generalized anxiety disorder, insomnia, and sleep quality: A systematic review and meta-analysis of randomized trials and quasi-randomized trials. Phytother Res. 2019 Jun;33(6):1604-1615. doi: 10.1002/ptr.6349. Epub 2019 Apr 21. PMID: 31006899.

Hepsomali P, Groeger JA, Nishihira J, Scholey A. Effects of Oral Gamma-Aminobutyric Acid (GABA) Administration on Stress and Sleep in Humans: A Systematic Review. Front Neurosci. 2020 Sep 17;14:923. doi: 10.3389/fnins.2020.00923. PMID: 33041752; PMCID: PMC7527439.

Scholey A, Gibbs A, Neale C, Perry N, Ossoukhova A, Bilog V, Kras M, Scholz C, Sass M, Buchwald-Werner S. Anti-stress effects of lemon balm-containing foods. Nutrients. 2014 Oct 30;6(11):4805-21. doi: 10.3390/nu6114805. PMID: 25360512; PMCID: PMC4245564.

Brock C, Whitehouse J, Tewfik I, Towell T. American Skullcap (Scutellaria lateriflora): a randomised, double-blind placebo-controlled crossover study of its effects on mood in healthy volunteers. Phytother Res. 2014 May;28(5):692-8. doi: 10.1002/ptr.5044. Epub 2013 Jul 22. PMID: 23878109.

Lim DW, Han T, Jung J, Song Y, Um MY, Yoon M, Kim YT, Cho S, Kim IH, Han D, Lee C, Lee J. Chlorogenic Acid from Hawthorn Berry (Crataegus pinnatifida Fruit) Prevents Stress Hormone-Induced Depressive Behavior, through Monoamine Oxidase B-Reactive Oxygen Species Signaling in Hippocampal Astrocytes of Mice. Mol Nutr Food Res. 2018 Jun 12:e1800029. doi: 10.1002/mnfr.201800029. Epub ahead of print. PMID: 29893510.

Aguiar S, Borowski T. Neuropharmacological review of the nootropic herb Bacopa monnieri. Rejuvenation Res. 2013 Aug;16(4):313-26. doi: 10.1089/rej.2013.1431. PMID: 23772955; PMCID: PMC3746283.

Zhu S, Liu F, Zhang R, Xiong Z, Zhang Q, Hao L, Chen S. Neuroprotective Potency of Neolignans in

Magnolia officinalis

Cortex Against Brain Disorders. Front Pharmacol. 2022 Jun 16;13:857449. doi: 10.3389/fphar.2022.857449. PMID: 35784755; PMCID: PMC9244706.

Janda K, Wojtkowska K, Jakubczyk K, Antoniewicz J, Skonieczna-Żydecka K.

Passiflora incarnata

in Neuropsychiatric Disorders-A Systematic Review. Nutrients. 2020 Dec 19;12(12):3894. doi: 10.3390/nu12123894. PMID: 33352740; PMCID: PMC7766837.

Jung HY, Yoo DY, Kim W, Nam SM, Kim JW, Choi JH, Kwak YG, Yoon YS, Hwang IK. Valeriana officinalis root extract suppresses physical stress by electric shock and psychological stress by nociceptive stimulation-evoked responses by decreasing the ratio of monoamine neurotransmitters to their metabolites. BMC Complement Altern Med. 2014 Dec 11;14:476. doi: 10.1186/1472-6882-14-476. PMID: 25495725; PMCID: PMC4364108.

Nathan PJ, Lu K, Gray M, Oliver C. The neuropharmacology of L-theanine(N-ethyl-L-glutamine): a possible neuroprotective and cognitive enhancing agent. J Herb Pharmacother. 2006;6(2):21-30. PMID: 17182482.

Kennedy DO, Bonnländer B, Lang SC, Pischel I, Forster J, Khan J, Jackson PA, Wightman EL. Acute and Chronic Effects of Green Oat (

Avena sativa)

Extract on Cognitive Function and Mood during a Laboratory Stressor in Healthy Adults: A Randomised, Double-Blind, Placebo-Controlled Study in Healthy Humans. Nutrients. 2020 May 29;12(6):1598. doi: 10.3390/nu12061598. PMID: 32485993; PMCID: PMC7352613.

Pathania R, Chawla P, Khan H, Kaushik R, Khan MA. An assessment of potential nutritive and medicinal properties of

Mucuna pruriens

: a natural food legume. 3 Biotech. 2020 Jun;10(6):261. doi: 10.1007/s13205-020-02253-x. Epub 2020 May 20. PMID: 32477848; PMCID: PMC7239958.

Peterson B, Nguyen H. St. John's Wort. [Updated 2022 May 19]. In: StatPearls [Internet]. Treasure Island (FL): StatPearls Publishing; 2022 Jan-.

Fukuda T, Ohnuma T, Obara K, Kondo S, Arai H, Ano Y. Supplementation with Matured Hop Bitter Acids Improves Cognitive Performance and Mood State in Healthy Older Adults with Subjective Cognitive Decline. J Alzheimers Dis. 2020;76(1):387-398. doi: 10.3233/JAD-200229. PMID: 32474473; PMCID: PMC7369117.

Maffei ME. 5-Hydroxytryptophan (5-HTP): Natural Occurrence, Analysis, Biosynthesis, Biotechnology, Physiology and Toxicology. Int J Mol Sci. 2020 Dec 26;22(1):181. doi: 10.3390/ijms22010181. PMID: 33375373; PMCID: PMC7796270.
Shipping Policies

US Domestic Order Subtotals of $200.00 or more: FREE

---

At checkout, you will be prompted to choose a shipping method for your item(s). Shipping costs are dependent on the items in your order and the shipping method you select.

Note: Not all products sold on this site qualify for free or discounted shipping.

True Cellular Formulas shipping hours are Monday through Friday 9 AM to 5 PM EST, excluding holidays. We do not process orders for shipping on Saturday or Sunday.

Generally, if you are shipping within the United States, you will have the option of upgrading your shipping method for faster delivery (Ground, Third Day, Second Day, or Overnight Service*). If you choose to upgrade your shipping method, your order must be received and clear credit authorization by 12:00 p.m. (noon)** EST, or your order may not be processed until the following business day. Business days are Monday-Friday, excluding observed holidays within the United States.

If you purchase the first-class mail option, Once your items are in the mail, the package is no longer the responsibility of True Cellular Formulas. We will not replace lost or stolen packages. If you purchased the Priority or Priority Express option, your package does come with standard insurance and we will file a claim for your lost or stolen package.

International Orders are not eligible for returns. Please check with Customs Regulations on importing supplements into your country. We are not liable or responsible for customs seizures. Taxes and Duty Fees are required prior to delivery.

UPS Next Day Air Services do NOT include Saturday delivery. Please call us to arrange for UPS Next Day Air Service Saturday delivery.

USPS Expedited and Priority Mail are NOT guaranteed services. Please choose UPS or FedEx for guaranteed services.

*Due to USPS zone restrictions, we cannot guarantee second-day or one to two-day express delivery to all zones. **Does not guarantee Same-Day Shipping.
Caution: If you are pregnant or nursing, consult with your healthcare practitioner before use. Keep out of reach of children.
*These statements have not been evaluated by the Food and Drug Administration. This product is not intended to diagnose, treat, cure or prevent any disease.
Share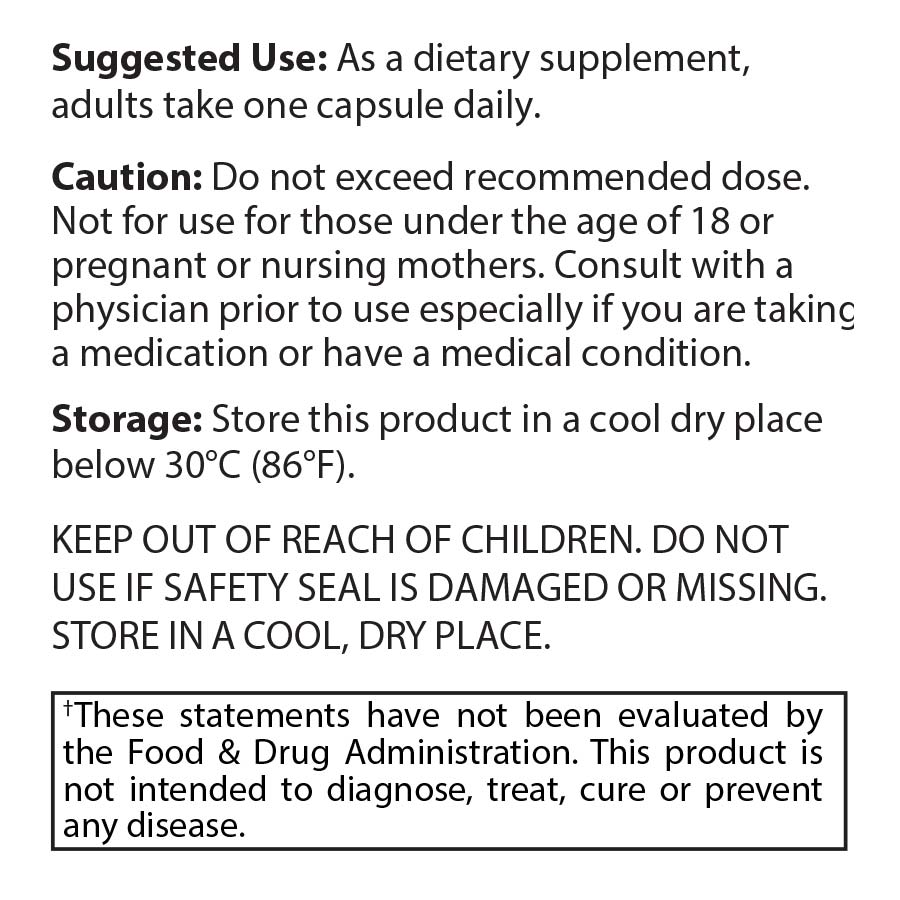 Non-Toxic Project Certified
Our products are independently tested by a 3rd-party lab and exceeded industry supplement requirements
for heavy metals or pathogens according to cGMP & Non-Toxic Project standards.